REQUEST MORE INFORMATION
Product Numbers:
M40: 6150-01-307-9446
M60: 6150-01-307-9445
M100: 6150-01-308-5671
M200: 6150-01-308-5672
M46 Utility Kit: 6150-01-208-9751
PDISE is a family of power distribution and illumination equipment that transmits electrical power from mobile generation equipment to the end user in a field environment.  The products are used to form a consolidated power network by adding components to meet specific operational missions and requirements.  Its designed has been deployed and in use by the US Military for over 29 years. This reliable, easy to setup and use equipment reduces overall logistics footprint though the use of centralized power.
More Information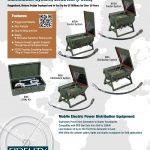 Click image for downloadable PDF
Distributes Power from Generators to Duplex Receptacles
Compatible with DoD Gen Sets from 5kW to 200kW
Line Distance of Up to 300 Feet From Generator to Load
M46 Utility Kit contains cables, lights and duplex receptacles for field applications